Reiki symbols represent spiritual gateways to certain manifestation types of the universal source of life force energy, and Cho Ku Rei is probably the most flexible of all.
It's why it has the largest number of uses and can harmoniously support other symbols in various sequences by enhancing their attributes.
It can help connect to certain vibration levels and, therefore, encourage your spiritual growth.
What Does Cho Ku Rei Mean
Cho Ku Rei is the "Symbol of Power," but not literally.
It does not provide any unique abilities, but it does assist you in concentrating a large quantity of universal energy into one area.
That's why Cho Ku Rei can translate as:
"Placing all the power of the Universe here, now."
You can access its vibration after the Reiki level 2 attunement.
Cho Ku Rei has the following attributes:
Cleansing;
Activation;
Protection;
The symbol acts as a "light switch" before starting the Reiki treatment and increases your ability to direct the energy where it's needed.
It can also amplify the power of any Reiki symbol.
Generally speaking, you can use it to enhance the energy flow and cleanse a person, space, or object.
How To Draw Cho Ku Rei
You draw the symbol from left to right and top to bottom, starting with the horizontal line at the top.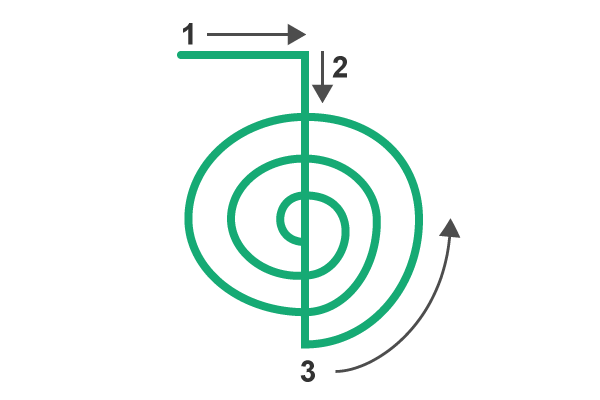 The horizontal line symbolizes the connection with the universal energy;
The vertical line represents the flow of light through the Soul Star Chakra, into the rest of the body, all the way down to the root chakra.
Finally, you end the symbol with a spiral intersecting the vertical in 7 places. These indicate the presence of the 7 primary chakras.
This is how you draw Cho Ku Rei in your palm. Keep in mind that you need to preserve the exact orientation regardless of the palm you use.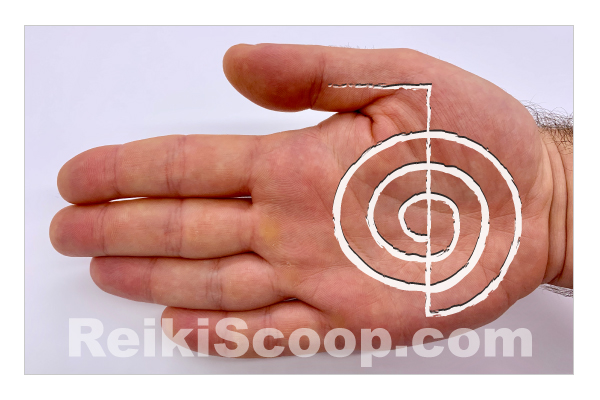 How To Pronounce Cho Ku Rei
Cho Ku Rei Reiki symbol is pronounced: "Cho Koo Ray" [ʧoʊ ku reɪ].
It's also possible to find the symbol as "choku rei," an alternative form that's more popular in the US.
How To Use Cho Ku Rei On Yourself
You can use Cho Ku Rei before and after the Reiki self-treatment and treatment on others.
Here's how you do it:
Activate it on your main chakras;
You may also activate it on your secondary chakras: eyes, ears, shoulders, hips, knees, feet;
Continue with the major organs as each one has at least one chakra;
Draw Cho Ku Rei in front of your body and then on your back for additional protection. The easiest way to do this is to visualize it;
What Are The Benefits Of Using Cho Ku Rei In Therapy
The steps mentioned above will create an "armor of light."
They will also:
Cleanse and stimulate the activation of your chakras;
Help boost your energy and overall mood while removing fatigue;
Create strong protection for your energetic and physical body;
Will also help remove energetic blockages, residual energies, and other negative influences;
All your efforts will be more effective with Cho Ku Rei because it helps increase the flow of energy, leading to better mental, emotional and physical health.
How To Maximize Cho Ku Rei's Potential
There are many ways to use Cho Ku Rei to its fullest potential, and you shouldn't limit yourself to only these examples. Feel free to explore and experiment with different approaches to suit your needs and preferences.
Remember that Reiki works mainly on intention and intuition.
Here are a few ideas that emerged from my practice and that worked well for others:
Activate Cho Ku Rei on your chakras before going to bed. This will help protect you during your sleep and remove any negative energies. Have a clear intention to rest without any disturbance;
Apply Cho Ku Rei on an area to revitalize it. For best results, stay there for about 5-10′ to relieve pain or reduce discomfort;
For extra grounding, you can draw the symbol on each foot and visualize how you anchor yourself to the Earth;
Use it between you and another person to create an energy barrier and help keep harmful intentions away. Be aware that communication may suffer while the effect lasts;
The same is true for animals. The symbol can absorb the negative energy and malevolent intentions but won't affect the animal. Remember to place the symbol between the two of you and not on its body;
Use Cho Ku Rei in the morning for cleansing and to activate an aura of protection. Draw it on your primary and secondary energy centers, as well as on the front and back of your body;
Draw one small Cho Ku Rei on each finger to create a "hand of light." Then, use it to perform deep cleansing to your energy fields. You can do this by combing the residual energy with your dominant hand and placing it in your non-dominant hand. When you're done, send everything to the ground towards the lower dimensional levels;

Sometimes it's hard to go back and forth and browse all of its uses. That's why we decided there's a genuine need for a more actionable and straightforward format. It's how the "Ultimate Reiki Symbols Guide" came into existence and the one we use every time we seek a specific answer.
The Most Important Sequence Of Symbols Using Cho Ku Rei
This sequence includes the emotional healing symbol Sei He Ki and the Reiki distance healing symbol Hon Sha Ze Sho Nen.
Together with Cho Ku Rei, they form one of the most important sequences in all types of Reiki.
Cho Ku Rei + Sei He Ki + Hon Sha Ze Sho Nen enables you to access the universal life force energy in almost any situation, while amplifying its flow and power.
Apply it above your crown chakra to enable a continuous flow of energy;
Activate it on the ceiling to create a cone of light that will help cleanse the room;
Use it to send healing at a distance for your past, present, future, or a person (with their consent);
As said before, Reiki works on intention. That's why it doesn't matter how you place the symbols. You can activate them in the reverse order, and they will work just fine.
How To Cleanse Your Food And Support Life With Cho Ku Rei
Food stores the energy of the cook. That's why it's advisable to cleanse it before you consume it, even if you're the one who created the dish.
Simply activate Cho Ku Rei above your food and drinks to remove any negative energies. Obviously, if you're surrounded by people, it might feel uncomfortable to do this for too long or even draw "imaginary" signs in the air. But, in that case, you can visualize the symbol while having a clear intention.
If the environment allows it, you can perform a deeper cleansing. – Activate your palms, draw Cho Ku Rei as described above, and then hold your hands above the food for about 5-10 minutes.
NOTE: The taste of the drinks might slightly change. Liquids are, in general, more "sensitive" to energy fluctuations and may adjust their molecular structure quicker than food.
Reiki supports life, and it will only help it thrive. That's why you can use the symbol to make your plants strong and healthy. – Draw a large Cho Ku Rei on each plant or hold your palms around them while having the intention of helping them to bloom.
Cleanse And Protect Your Home Using The Cho Ku Rei Reiki Symbol
We influence a room's vibration according to our mood or by bringing different types of energy from the places we've traveled.
Apart from cleansing ourselves, it's good practice to consider taking care of the space we rest or work in. The more we do this, the better the energy will be. This should improve our performance on all levels because the environment will also support us.
NOTE: If you're sharing your home with others, have their consent before taking any action. Still, you have no restrictions in your own space.
Start by drawing Cho Ku Rei:
On each wall;
At every corner of the room (top and bottom);
On the ceiling;
On the floor;
In the center of the room;
There are a few things that will happen:
You will create a layer of protection;
You'll also dissolve old energy prints and existing negative energy;
It's also possible for some stagnant feelings to arise. This is a good thing because it means you've cleared part of the emotional baggage and negative issues you didn't even know existed. If this happens, take some time for yourself, meditate, or practice Reiki to slowly heal and reinstate balance;
"Secondary" Uses That Can Prove To Be Quite Helpful
Activate Cho Ku Rei on any electronic device or physical object that belongs to you. This will help protect it from theft and misusage. Also, the process may reveal new uses;
You can do the same for crystals. It will enhance their effect, cleanse them from residual energy, and even add a layer of protection;
If you activate Cho Ku Rei in front of you, parallel to the ground, you'll clear the path towards your destination and protect yourself and those traveling with you on their journey;
Apply Cho Ku Rei on small bleeding areas to heal them. A brief burst of blood may occur, but the effect can lead to a quicker recovery;
If you feel anxious, nervous, or angry, use Cho Ku Rei to calm down by drawing it on the crown and third eye chakras. Visualize as the symbol becomes brighter while engulfing you with calm and serenity;
How To Handle Energetic Blockages
Before anything, it's crucial to define energetic blockages in order to recognize them.
Through our body flows both universal and vital energy. Together they create our body's vibration.
The chakra system filters this energy at one point, but sometimes blockages occur due to increased exposure to negative influences. These can manifest as an interrupted or decelerated flow.
You can add Cho Ku Rei to unclog this funnel and stimulate the energy stream when you practice self-treatment. This can lead to better physical health and focus.
Support Your Career And Manifest Abundance
Before we share the details, it's important to note that "abundance" may refer to money or other types of wealth, such as love, health, or happiness.
There's always the possibility that certain gaps exist between you and a goal you may want to reach. These obstacles occur for various reasons, and you can only ask to move closer to that outcome "for your greater good."
We never know what the end result will look like. It can be totally different from what we initially imagined.
That's why it's essential to be flexible even if you actively work to achieve something.
So…
When preparing for an interview or important meeting, you can activate Cho Ku Rei on your third eye chakra. This will bring calm and clarity to your mind, enabling you to focus on what matters. This confidence will increase your chances of seeing the "big picture," not getting lost in details, and eventually making the right decisions.
If you wish to manifest money or physical abundance in general, visualize a large Cho Ku Rei blending with that image. Still, you may use this method to send gratitude to all the payments, products, or services you have received.
Using Cho Ku Rei For Gratitude
To be grateful and show your appreciation to the Universe, it's important to be in a state of openness and love.
Save some time for yourself, relax, and remember all the positive things, events, or people that have contribute to your well-being.
Visualize them surrounded by a bright, white light.
Seal everything with a large Cho Ku Rei and offer a feeling of serenity at the end of this meditation.
Reverse Cho-Ku-Rei
This version is rarely used in therapy or self-treatment because its role is to flush out energy from a person or an object.
That's why it's advisable to use it occasionally, only for therapeutical purposes and with the patient's consent.
Applying a reverse Cho Ku Rei can help calm someone and even induce a feeling of sleepiness.
NOTE: Some practitioners use reverse Cho Ku Rei as the normal one. I don't believe this is a wrong approach as long as the intention is to benefit from the correct type of energy. For example, suppose you have difficulty visualizing the regular one, and the reverse comes to mind. In that case, your intention will dictate the results.
3D Cho-Ku-Rei
You can generally consider using this version for protection.
Visualize the symbol as a coil surrounding your body from head to toes, intersecting your energy fields and chakras.
This will create a shield that will protect you from residual and negative energies.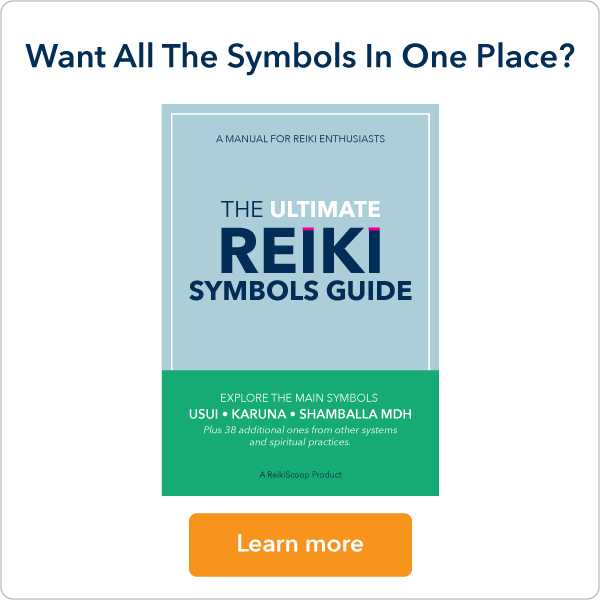 Conclusion
For me, Cho Ku Rei is more than a symbol or technique. It's a powerful ally that I can always rely on. Moreover, it's part of my daily life because it integrates seamlessly into my routine and practice.
Regardless of the sequence you may choose to apply in different circumstances, it is there to give you confidence and support.
Through its continuous use, it has the potential to trigger self-realization and the need for spiritual growth.
Cho Ku Rei will become stronger over time. As long as you use it consistently, you will understand why this symbol deserves thorough understanding.