Sei He Ki is the second symbol you learn at level 2 in the Usui Reiki system.
With a slightly higher vibration than Cho Ku Rei, Sei He Ki helps open dimensions, create harmony, and provide emotional healing.
It can guide you to the root of your emotional issues while balancing the energetic body.
Graphically it's more of a symbolic representation of the brain hemispheres than a conventional Japanese Kanji character.
What Does Sei He Ki Mean
Sei He Ki represents mental-emotional healing, harmony, and balance.
It can empower affirmations, help you overcome mental obstacles and addictions.
Within the Reiki self-treatment, Sei He Ki can act as a gateway to the subconscious.
Through its energy, you can bring the root of your insecurities, fears, and imbalances to the surface. This is the first stage of introspection that will eventually heal your emotional body.
From this point on, you'll be able to gradually learn how to understand, accept, and eventually love yourself. This will happen harmoniously and effortlessly, for it is the natural order of things.
Self-healing will now begin.
When you learn to love and understand yourself, it means that you're willing to improve certain aspects of your life and, eventually, your true inner-self.
However, this does take time. So even if some parts of your life won't change immediately, you can indeed become more balanced in other areas.
Aside from highlighting certain issues, Sei He Ki can also expose your inner emotional qualities. You may later use these traits to benefit from true spiritual awakening.
How To Pronounce And Draw Sei He Ki
Sei He Ki Reiki symbol is pronounced: "say-hay-key" [seɪ-heɪ-ki].
Regarding its shape, there isn't a single way to describe it. Some Reiki practitioners characterize Sei He Ki as a symbolic representation of the brain hemispheres, while others see it as depicting the human face.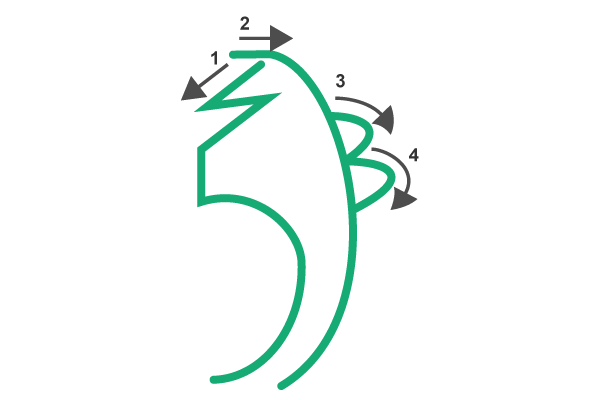 This is how you draw Sei He Ki on your palm.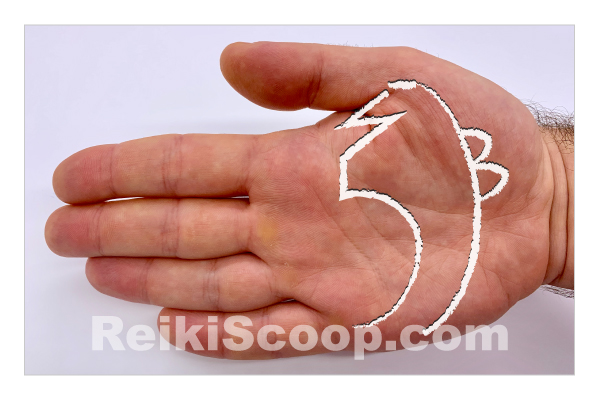 Like the rest of the symbols, remember to preserve its orientation, regardless of where you activate it (left or right palm). So you'll always draw it top to bottom and left to right.
Still, a clear intention will always dictate the energy flow.
How To Use Sei He Ki On Yourself
Sei He Ki works great with Cho Ku Rei because they complement each other while enhancing the power of self-treatment.
If you choose to use Sei He Ki as a standalone element:
Activate it on your palms and primary chakras before and after self-treatment;
You may also activate it on the secondary energy centers like your shoulders, hips, knees, feet, and major organs;
This will have a cleansing effect and will also help release residual and negative energy;
Together with Cho Ku Rei, they promote a better energy flow and build a layer of protection;
You can also activate Sei He Ki on the front and back of your body to further enhance the energy flow and protection layer. This is especially useful if you are about to perform attunements or Reiki treatments on others;
Drawing a double Sei He Ki on top of your head (one for each hemisphere) can help cleanse the brain's energetic field and any energetic imbalance at this level. This is an excellent approach to diminishing headaches and dizziness.
To make this information easier to access and implement, we've created the "Ultimate Reiki Symbols Guide," which is an actionable collection of all the main symbols from Usui to Karuna and Shamballa MDH.
3 Unique Uses Of Sei He Ki
Sei He Ki is sometimes described as a "gateway opener" for certain energies.
When severe pain bothers you or an energetic blockage is in place, you may use Sei He Ki to remove the unwanted energy from that area. Consider adding Cho Ku Rei, and then keep your activated palms above that region for about 10 minutes to support the regeneration process.
If you find yourself in the middle of a quarrel, a tense discussion, or a moody atmosphere, drawing or simply visualizing Sei He Ki in the center will alleviate tension. That's because Sei He Ki is also a symbol of order and peace.
Things are not always rosy. But what do you do if you're in a public place? Then, simply visualize Sei He Ki on your heart area, forehead, and each of your lungs to combat stress, sadness, or the feeling of being overwhelmed. This will swiftly dissipate that low-vibrational energy and allow you to recuperate. It's not a long-term fix, but it will provide the necessary support to get you through the situation.
How To Use Sei He Ki For Depression
Sei He Ki can help heal low-vibrational emotions such as anxiety, fear, or depression.
Together with Cho Ku Rei and Shika Sei Ki, the effect can be even stronger.
Activate Cho Ku Rei and Sei He Ki on the main energy centers. Cho Ku Rei will "switch" on the energy while Sei He Ki will open the dimension and free any latent negative presence;
Add Shika Sei Ki in the heart area to bring its specific cleansing energy that will help "repair" the noesic substance (the soul);
Keep in mind that depression settles deep within the body and disturbs our behavior through negative thoughts. This lowers your general vibration levels and gradually damages your emotional, mental, and physical layers.
That's why it's essential to consider activating these Reiki symbols on the chakras as well.
By strengthening the energy field of the brain hemispheres, heart area, and the rest of the body, you increase the overall vibration. In turn, this will help you become considerably less vulnerable to low-vibrational emotions such as depression.
Understanding The Differences In Vibration
We've probably all experienced that awkward resistance before entering a space … that moment when something simply wasn't right. This feeling exposed everything in an instant and told us to stay away, even though the message was blurred.
This is a perfect example of going through a significant difference in vibration. It's like two magnets meeting at the opposite poles.
By raising our vibration, we significantly reduce the possibility of interacting with residual and negative energy.
Practicing the Reiki self-treatment regularly is a great way to do that because it helps you channel the universal life force energy to the sacral area – sacral chakra or Svadhishthana.
Together with Sei He Ki, you'll help stimulate the Kundalini energy and gain a feeling of empowerment. In addition, if practiced consistently over a prolonged period, you'll also develop your awareness.
NOTE: This is where the true inner-self resides, and it is here where the core healing should begin. That's why it's essential to surface the deep, unknown repressed emotions and frustrations that most of us hold at this level.
Still, always take it one step at a time.
Listen to your rhythm and respect it!
Using Sei He Ki To Help Others
The most common use is to activate the symbol in your palms and use it as you would do for Reiki self-treatment. With their permission and constant practice, it will have a similar effect.
Another thing you could do is to activate Sei He Ki between you and another person to facilitate an immediate emotional transfer. You'll then absorb their present state, which means you'll begin living their emotions.
You should only consider this procedure for therapeutical purposes only and when time is of the essence. But, in the end, it's up to you how you choose to help others. Just be aware of the possible consequences and consider cleansing yourself after therapy.
NOTE: When using Sei He Ki + Cho Ku Rei between you and another person, you'll filter out any malevolent intentions or residual energies. This will provide harmony and balance the connection, at least for that present moment.
How To Cleanse A Room With Sei He Ki
It's always good practice to cleanse the space where you spend most of your time.
Without being aware, we gather residual energy from the people we meet and the places we travel to. We constantly bring these influences back to our environment and expose ourselves to them.
Like keeping your desk clean and sheets tidy, make sure to also maintain a higher level of vibration through regular cleansing.
Again, you may add Cho Ku Rei for an enhanced effect.
Activate Sei He Ki on:
On each wall;
Each corner (upper and lower);
Ceiling;
On the floor;
In the center of the room;
This process will bring a strong sense of serenity to the entire space and hopefully make anyone entering it feel safe.
How To Cleanse The Mental Field And Remove Self-Induced Negative Programs
It's so easy to sabotage ourselves.
We actually do it more often than one would think.
Unfortunately, these actions add up to potentially harmful effects if left unchecked.
Yet, the "fun" begins when you become aware that this is happening. Then, it's actually the best time to take action and do something about it.
Negative affirmations, self-induced patterns, and unhealthy mental conditioning are just some of the things that exist within the spectrum.
Fortunately, you can dissolve most of them with Sei He Ki alone.
One of its primary uses is to increase the mental energy field surrounding the third eye chakra. You become mentally weary and cannot exercise memory or attention when this isn't working properly.
By drawing Sei He Ki on the third eye energy center and placing your hands in this area, you will gradually start freeing this energetic field of adverse effects.
(Remember that the third eye chakra has a back-projection situated on the lower back of your head.)
Activate Sei He Ki in your palms and place one on your forehead and one on the backside of your head;
Stay in this position for about 10 minutes each day and then notice how the energy field generated by this chakra starts to cleanse itself and expand;
During self-treatment introduce positive affirmations such as: "I am doing…", "I am good at…", or "I am thankful for having [future desire]…" – always bring in the present what you would like to manifest in the future. Be happy and grateful that you are in the process of achieving your goals.
NOTE: You can do this for any chakra and its respective energy field.
How To Remove Addictions With Sei He Ki
Sei He Ki can assist you in breaking undesirable habits as our lives are directly influenced by our mental energy field.
Use the Reiki hand positions to help eliminate the negative information that supports these bad habits.
Spend about 10 minutes on each position with the intention to free yourself from addictions and be protected from future influences.
You should be able to notice changes occurring after a few weeks of constant practice.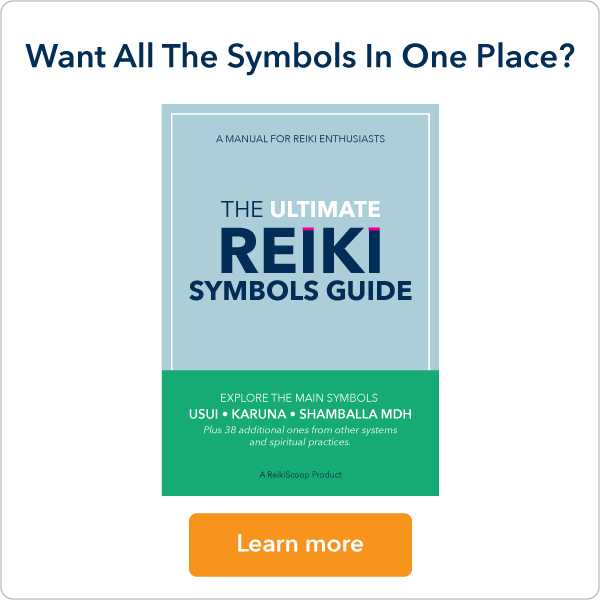 Conclusion
Reiki has the potential to fill you with light and positivity as long as you give it enough time to manifest.
Remember that Sei He Ki has an amazing ability to enhance and optimize our energetic mental field and, therefore, use it to spot nuances and reveal certain pieces of information that you wouldn't otherwise notice.
The sequence Cho Ku Rei + Sei He Ki + Hon Sha Ze Sho Nen is very efficient in opening the dimension towards the universal life force energy. This can help you channel the flow to more specific goals.
3 Main Roles
The first one is to help us open and release all residual energy while allowing the positive, universal energy to enter;
It can bring harmony to a space when you draw or visualize it;
Sei He Ki can support the mental and emotional levels by surfacing imbalances while healing them in a harmonious way;
I like using Sei He Ki together with Cho Ku Rei and Hon Sha Ze Sho Nen to amplify the flow of universal energy. I've been doing this for so many years that it has become second nature.
Still, when starting out, I recommend mastering one symbol at a time.
Explore it through meditation and practice. Try it on yourself and introduce other symbols to form a sequence. See how you feel and notice the effect it has on you.
Remember that using symbols is a process of re-discovery and development, so be patient with yourself. Sei He Ki is one of the best practices you can use to purify your mental state and bring harmony to your energetic body. While results don't show overnight, the effort is well worth it in the end.